The Eclipse 580 features sophisticated design and numerous practical details. A raised sunbathing deck gives guests a perfect view as they lean back and relax. Teak in the bow and on the floor combines with exquisite fittings to make this electric boat a truly elegant jewel out on the water – one also equipped with the very latest technology, an onboard computer and a GPS speed gauge.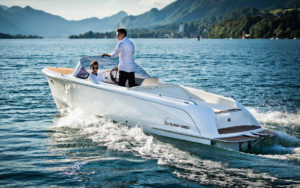 Smooth, silent and superb
The boat's unique design enables it to skim almost silently over the surface of the water, powered by an environmentally friendly electric motor. Furthermore, the shape of the Eclipse 580 guarantees a stable ride on all categories of water.
Exquisite materials
Refined teak and mahogany wood finishes round off the look of the elegantly designed Eclipse 580. The aesthetic combination with the white hull creates a harmonious overall impression for boating connoisseurs.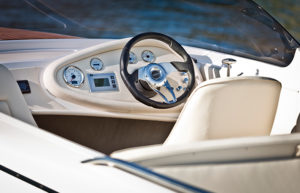 A keen eye for every detail
The sophisticated dashboard telemetry catches the eye with chrome-trimmed control panel displays and a logical position for each of the relevant technical elements. The onboard computer provides a constant overview of the battery power level and all the other key information.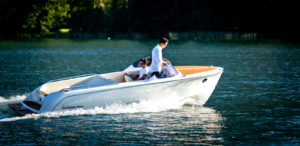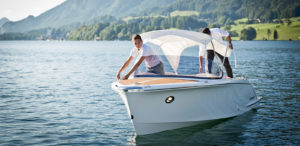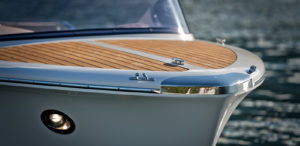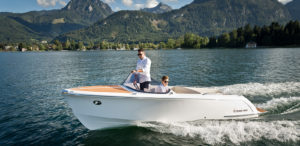 Extremely stable in motion and glides silently across the water
Invitingly spacious sunbathing area of 1.70 metres (length)
All features finished with premium-quality materials
Power
Calculate the range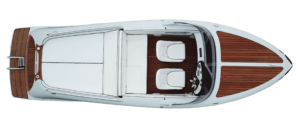 Range depends on the specific conditions on every trip. Actual range and speed can be reduced by additional loads, wind, current, the pilot's driving style, as well as by the age and condition of batteries, engine and propeller. All ranges have been calculated for an available battery capacity of 80%.
Eclipse 580
Technical specs
Length

5,80 m (6,15 m mit Badeplattform)

Width

1,80 m

Weight

750 kg upwards

Motor power

4,3 kW - 10 kW underfloor drive, 20 kW shaft drive

Batteries

AGM batteries up to 10kW, lithium batteries with 20kW

CE certification

D (sheltered waters)
Eclipse 580 equipment
Brochure

Be inspired?
Book a test drive