Marian Boats' flagship, the Laguna 760, is a premium class electro-yacht. It combines timelessly elegant design with highly-advanced technology. At the heart of the boat is a 125kW Piktronik electric motor. The Sony lithium-manganese batteries produce enough power to glide effortlessly over the surface of the water – and even pull a water-skier.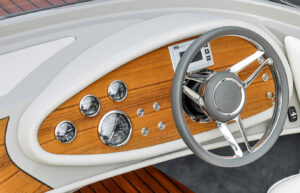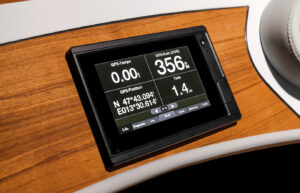 Exquisite materials
The leather upholstered steering wheel offers a beautifully timeless look. Alternatively, there's also a tasteful wooden steering wheel available.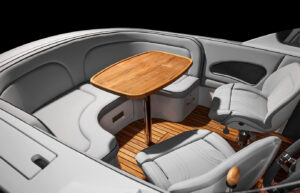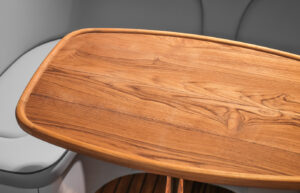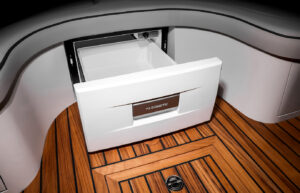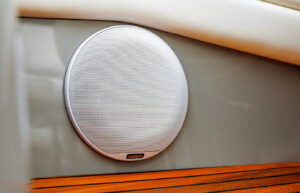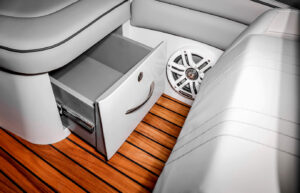 Ideally equipped
Storage space is intelligently integrated into the boat's design to maximise the use of space around the entire electro-yacht. Everything you take on the boat is located conveniently at arm's reach.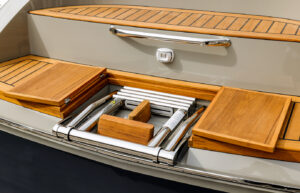 More space for bathing
The swim platform has been designed to allow the ladder to fold away into the floor. This makes more space available on the platform without compromising on functionality or elegance.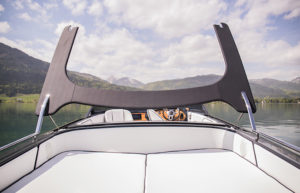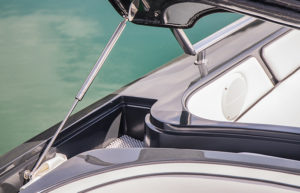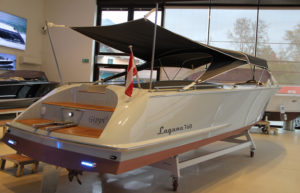 Integrated sun shade
The Laguna 760 is delivered with a sun shade that can be erected in a few simple moves, and can be stowed away invisibly when not required.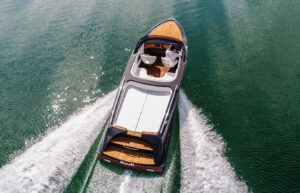 Silent speed
The Laguna 760 has been designed for the electric drive system to allow it to cut through the water gently and silently, despite having a top speed of 53 km/h.
10 years of the Marian Laguna 760
The Marian Boats flagship is at home on Lake Wolfgang.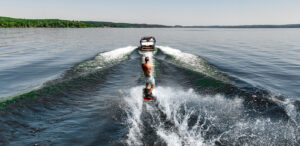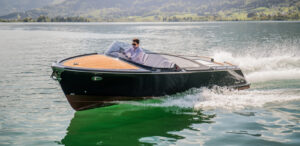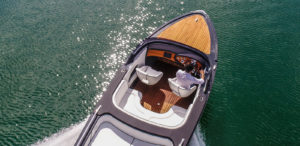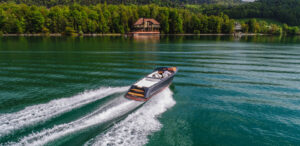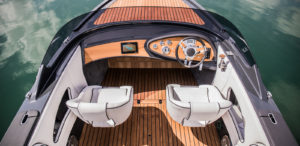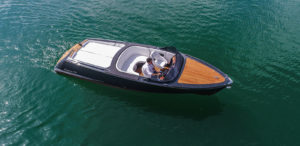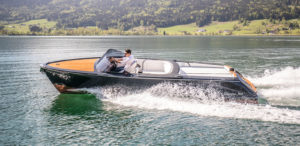 Plenty of storage space due to cleverly integrated drawers and storage shelves
Spacious swim platform with
built-in fold-away ladder
Inviting 1.80-metre
sunbathing area
Supreme quality materials used
all around the boat
Power
Calculate the range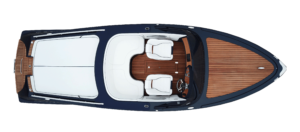 Range depends on the specific conditions on every trip. Actual range and speed can be reduced by additional loads, wind, current, the pilot's driving style, as well as by the age and condition of batteries, engine and propeller. All ranges have been calculated for an available battery capacity of 80%.
Laguna 760
Technical specs
Length

7,60 m

Width

2,30 m

Weight

1200 kg upwards

Motor power

10kW underfloor drive, 20kW to 125kW shaft drive

Batteries

AGM batteries up to 10kW, lithium batteries from 20kW upwards

CE certification

D (sheltered waters)
Laguna 760 equipment
Brochure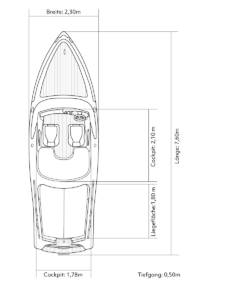 Be inspired?
Book a test drive