August 2022
Living Legends of Aviation Award 2022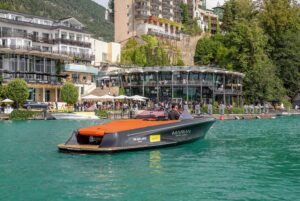 St Wolfgang, 08/27/2022. The 3rd edition of the Living Legends of Aviation Europe ceremony in the Event Resort scalaria on Lake Wolfgang offered an unforgettable evening full of highlights. Hollywood star Morgan Freeman, himself an enthusiastic pilot, took the opportunity to travel to the Salzkammergut together with his partner Linda Keena to celebrate this aviation holiday and the award winners to receive their awards at the evening gala in the DO-X teatro present.
Living Legends of Aviation Europe Award Gala in the scalaria on Lake Wolfgang
Jerry Lips founded the organization Living Legends of Aviation in 2003 with the aim of celebrating the second century of aviation and outstanding achievements by pilots, industry representatives, astronauts: inside and to honor record holders. As in 2019, Marianboats is the exclusive partner of the event and was able to bring the unique Wolfgangsee scenery closer to the award guests with 3 models on site (M800, M800 SPYDER, Laguna 760).
Personalities and Stars on the Red Carpet
Splendid sunshine, the glittering lake, seaplanes and the surrounding mountains of the Salzkammergut – the backdrop could not have been more beautiful when the greats of the aerospace industry gathered on the red carpet in the scalaria on Saturday. Together with actors, captains of industry and celebrities from Germany and abroad. Hollywood star Morgan Freeman, who relaxedly chatted with journalists and guests, received a lot of attention. As a passionate pilot, he himself is part of the Living Legends of Aviation Hall of Fame and thus supports the Kiddie Hawk Foundation, which inspires children to fly at a young age. Together with his partner Linda Keena, he emphasized his connection to Austria. In conversation, they said that they consider the area around Lake Wolfgang to be one of the most beautiful in the world. "After our arrival in Salzburg and an impressive sightseeing flight in the Flying Bulls DC-6, we continued on Friday to Lake Wolfgang by seaplane. Today is going to be perfect and we are happy to be part of the gala in the scalaria," says Morgen Freeman about the first two days in the Salzkammergut and in the scalaria.
The Flying Bulls in formation over Lake Wolfgang
Another highlight of the event was the air show for the flying opera 'Living Legends of Aviation' by 'The Flying Bulls'. From Hangar 8 at Salzburg Airport, the fleet consisting of the B-25, the Cobra, the Corsair, BO 105, the two Alphajets and the Lightning set off in the evening sun for nearby Lake Wolfgang and showed impressively why they are among the best in the world belong to the best of the air. A spectacle for the whole region. In order to have a good view of the air show, a public viewing area with live music broadcast was set up on Calvary above St. Wolfgang.
Back to overview