März 2023
Austrian Boat Show 2023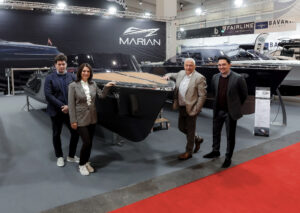 Austrian Boat Show 2023 | Tulln Fair
For more than 20 years, we have been represented at the Tulln fair. From the beginning of our company history, Senior Ion Marian was a fixed part of the Austrian Boat Show every year to present his latest boats. Today, two decades later and one generation further, Marian presents 3 of our current models + our flagship M800 Spyder. Personal contact and exchange with our customers and prospects is particularly important to us as a family-owned company from Austria.
MarianBoats has made a name for itself in recent years as one of the leading manufacturers of high-end boats. Their goal is to offer boating enthusiasts the ultimate experience on the water. At this year's Tulln fair, the company presents an impressive collection of boats.
One of the highlights of the Marianboats collection is the latest model, the "M800 Spyder". The yacht is a true eye-catcher and offers luxurious comfort for up to nine people. The "M800 Spyder" is perfect for those looking for the ultimate experience on the water. MarianBoats also presents a range of other models, including the "Magic 640", which is built for high speed and lots of fun on the water. Each boat is unique in design and function, offering the owner an unparalleled experience on the water.
Back to overview