Februar 2023
Miami International Boatshow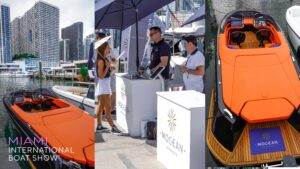 Marianboats presented the M800 Spyder for the first time at the Miami Boat Show 2023 in collaboration with Mocean Watercrafts.
In collaboration with our exclusive dealer Mocean Watercrafts, we were able to showcase the M800 Spyder at the renowned water sports exhibition.
The Miami Boat Show is one of the largest and most well-known water sports exhibitions in North America, attracting thousands of visitors each year. We are proud to have showcased our M800 Spyder in collaboration with Mocean Watercrafts at this unique event.
The M800 Spyder is a flagship model that perfectly combines speed, comfort, and style, making it the perfect companion for water adventures. We are thrilled that our boats are now available in North America.
Back to overview