Februar 2023
Mocean Watercrafts X Marianboats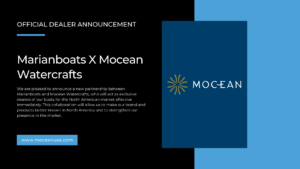 Mocean Watercrafts X Marianboats
We are pleased to announce a new partnership between Marianboats and Mocean Watercrafts, who will act as exclusive dealers of our boats for the North American market effective immediately. This collaboration will allow us to make our brand and products better known in North America and to strengthen our presence in the market.
Mocean Watercrafts has an excellent reputation as a young dynamic company and we were particularly impressed by the sale of high-quality water sports products. We are proud to have you as our exclusive partner for North America. Their extensive experience and commitment to superior customer satisfaction will help ensure our North American customers have an unforgettable experience on the water. We are confident that partnering with Mocean Watercrafts will help us achieve our goals in the North American market and to further expand our brand. We look forward to working together to provide our customers in North America with the best possible experience on the water.
Many thanks to Mocean Watercrafts for the partnership. We are confident that this collaboration will be a great success for everyone involved.
https://www.moceanusa.com/
Back to overview