September 2023
Exclusive Invitation - Cannes Yachting Festival 2023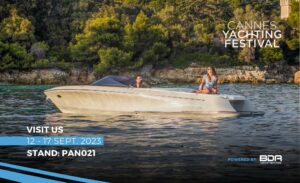 Exclusive Invitation to Cannes Yachting Festival 2023
We are extremely pleased to invite you to this year's edition of the Cannes Yachting Festival 2023, taking place from 12. to 17. Sept. on the stunning French Riviera in Cannes. As pioneers in the development of advanced electric yachts, we are honored to bring you our latest innovations and pioneering technologies. The Cannes Yachting Festival is a premier event that brings together the elite of the yachting industry.
This year, the festival will become a meeting place for enthusiasts, experts and connoisseurs of the yachting world who want to explore the future of shipping. At this prestigious event, Marianboats will present a selection of electric propulsion yachts that combine luxury, sustainability and excellence. Don't miss the opportunity to admire and experience up close our latest creation: THE M800 SPYDER.
Date: 12. – 17. September 2023
Location: Vieux Port / Cannes
Time: Daily 10 -18 Uhr
We will be there as personal contacts for your questions and concerns. The Marian Präsentation is powered by our French dealer BDA EUROPE.
Discover BDA EUROPE: https://www.bda-europe.com/
Back to overview