Juli 2023
Marianboats X Lake Tahoe | powered by Mocean Watercrafts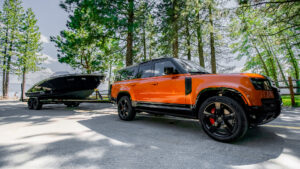 MOCEAN Watercrafts presents the first MARIAN M800 Spyder at the picturesque Lake Tahoe, USA.
Lake Tahoe, USA – An exciting moment in our 20-year company history unfolded at the picturesque Lake Tahoe as our dealer, MOCEAN Watercrafts, celebrated the US launch of the M800 Spyder. Invited guests, including prominent figures from the watersports industry, media representatives, and watersport enthusiasts, gathered to experience the M800 Spyder up close and personally feel its unparalleled performance.
Alex Marian
Junior Executive
"The collaboration with our esteemed partner, MOCEAN Watercrafts, has provided us with the opportunity to present the M800 Spyder here at Lake Tahoe, a place that holds special significance for watersport enthusiasts all over the world."
MOCEAN announces further MARIAN models for the USA!
MOCEAN has officially announced that more MARIAN models, including our Magic 640, will be introduced and made available in the USA market.
Back to overview