November 2018
Marian Laguna 760 wins the German Design Award 2019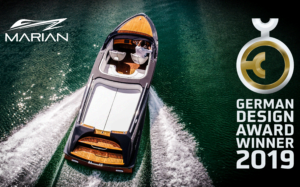 Since 2011 the German Design Award has honoured innovative manufacturers and designers, products and projects in the German and international design industry. At this year's event the 1st prize was awarded to our very own Laguna 760 in the 'Excellent Product Design – Aviation, Maritime and Railway' category.
The German Design Awards ceremony is one of the year's most important events for designers, attracting over 1200 participants from the worlds of politics, business, design and the press. It also provides an ideal opportunity to establish important new contacts and cultivate existing contact networks.
The Marian Laguna 760 came out on top against a field of over 5000 entrants in more than 46 categories. The jury justified its selection as follows: "The combination of exquisite woods, chrome and leather exudes a luxurious feel that is reinforced by the classic elegance of the design lines of the hull and the interior. This great sports boat is equipped with a powerful electric motor, in line with the trend towards electromobility, promising excellent performance and lots of waterborne fun." The official award ceremony took place in February 2019.
Back to overview