Juni 2023
Middle East Dealer: EV Lab X Marianboats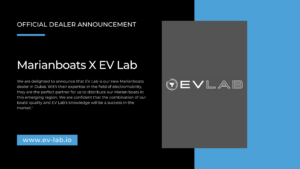 EVLAB partners with MARIAN Electric Boats as the exclusive distributor in the Middle East
We are thrilled to announce our new partnership with EV LAB as our Marian boats dealer in Middle East. As a multi-brand electric mobility platform, EV LAB is dedicated to driving the transition to sustainable transportation and promoting the benefits it provides to air quality, the overall environment, and diversified economic growth. We believe that their commitment to sustainability aligns perfectly with our vision for providing eco-friendly and high-quality boats to our customers.
Alex Marian, Executive & Head Of Sales, said " Joining forces with EV LAB is a strategic and significant milestone for Marian boats, especially in Dubai, where EV LAB is an established player in the electric mobility market. This partnership represents our unwavering commitment to delivering high-quality boats to our customers worldwide, while promoting sustainable transportation solutions. With EV LAB's extensive knowledge and passion for the field in addition to our 20 years of family business experience, we are confident that our boats will reach a wider audience and contribute to creating a more sustainable future.''
Kevin Chalhoub, Founder & CEO at EV Lab, said "We are delighted to announce our exclusive partnership with MARIAN Boats for the Middle East region. This collaboration allows us to expand our sustainable transportation solutions by offering innovative electric boats that cater to coastal communities. The shipping and maritime transportation accounts for about 10% of all transportation sector emissions. We are extremely enthusiastic about introducing one of the first electric boat solutions in the Middle East and about decarbonizing the transportation."
We are excited to work with MARIAN Electric Boats and make a positive impact on the industry together.
Back to overview